Thursday, May 1, 2003
Warren: I know it's hard to pick just one, but what's the most blatant act of stupidity you've ever encountered (and had to deal with, presumably) in your professional life? --Darth Paradox

Warren: We've seen how bad Garry can be, but what about Barry? Obviously he has a hard time accepting reality as far as your employment is concerned, but why did you feel the need to carve your letter of resignation into his door? --F'n'M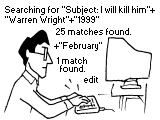 I can take these two together.

About an half-hour before I'm due to be at work, Barry phones me while I'm in the shower. "Warren, I'm here with some very important clients and I'm showing them our state-of-the-art server backbone" (I long ago stopped asking him not to use words he doesn't know the meanings of) "and I need you to unlock this server right now!"
Un-what? I ask him what it is he intends to do.
"I just want them to see it running! Why won't it turn on? This is inexcusable blah blah blah"
Turn on? It should be on... Oh crap. "Barry, did you push the big red button?"
"Yes! And it won't start up!"
Sigh. "Okay, push it again, and then don't touch anything until I get there."
"blah blah insubordinate blah on your head blah"

I was not prepared for what I found when I showed up. The server room was filled with magic capacitor smoke, and there, surrounded by increasingly wary-looking stuffed suits, was Barry, with his finger on the button, cycling the power about five times a second. "It still won't boot on!" I think he was thinking it was like an elevator, or a crossing signal, and would respond more quickly the more times he pressed the button...

When I explained what he had done, he made a show of blaming me, but the clients didn't buy it. He tried to blame me for losing the clients too. I quit not long after that. It wasn't the last straw, but it was definitely the biggest.