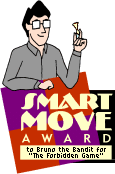 The first Smart Move Award goes to Bruno the Bandit by Ian McDonald for the storyline entitled, "The Forbidden Game." In it, our cultural obsession with the forbidden, and specifically with sex, is lampooned mercilessly, starting with the premise that the game of chess, due to the decree of a sore loser of a king long ago, is against the law.

Now, you know what just a few years of Prohibition did to the United States. But a game? Yes indeed. Remember when Dungeons & Dragons was supposed to be Satanic? We saw a lot of morons fumblingly pretending to be able to play the game, waving sticks around in cultish monk robes, just so they could be bad boys. So, yes, anything can be glamourized by a negative stigma. In this case, it's chess, which has been elevated to the equivalent of sex in the fictional society of Rothland. And the whole thing is quite funny.

All of the praise of Bruno the Bandit that I have heard in recent days has never failed to mention "the chess storyline." So it is a fair bet that these episodes have played a strong part in increasing the readership of the comic. That means it was a Smart Move, and this award was named partially in honour of Ian McDonald's clever chess gambit.